TPG
TPG membranes 4 or 5 mm thick are manufactured from bitumen modified with atactic polypropylene (APP).  The compound is a mixture of distilled bitumen plastomers and elastomers which gives ultimate elastomeric results and high flexibility at very low temperatures of -10 °C, and the ability to withstand high temperatures.
TPG membrane is reinforced by two carrier mats, 200 g/m² non-woven polyester and 60/m² fiberglass.  The non-woven fabric gives the superior mechanical resistance to stand fatigue and tear caused by different superficial movements of adjoining layers, while the inorganic reinforcement gives the membrane outstanding dimensional stability.
The underside is finished with burn-off polyethylene film, and the upper side can be either smooth or sand.
TPG is recommended in waterproofing works where severe stress could be present.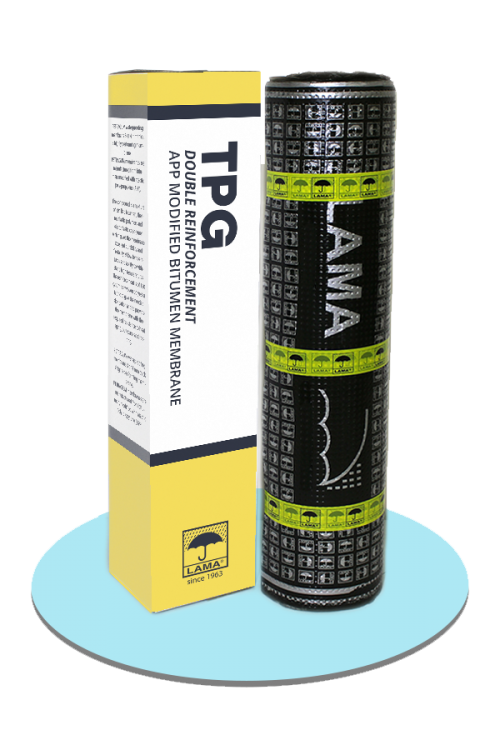 Key Features.
High dimensional stability.
High resistance to thermal aging.
High puncture resistance.
Hydrostatic pressure resistance.
Load strain resistance.
Packaging Information.
Dimension: 1×10 m/roll
Thickness: 4 or 5 mm
Weight per roll: 50 or 62 Kg
Reinforcement: Nonwoven Polyester 200 g/m² and Reinforced fiberglass 60 g/m².
Application Field.
TPG membranes are designed for use in heavy-duty applications such as underground foundations, basements, retaining walls, tunnels, reservoirs, anti-earthquake foundations, multi-story car parks, etc.  And where toughness, dimensional stability and impact resistance are required.
Application Method.
To fix the sheet to the substrate, use a propane gas burner to melt off the polyethylene film and a thin layer of bitumen while unrolling and laying the membrane.
Side laps 100mm and end laps 150mm. Smoothen the overlaps with a hot round-tipped trowel.
Excessive heating may damage the reinforcement.
The membrane may be loosely laid, partially or fully bonded, depending on the structure and the specifications.