ROFLEX
ROFLEX is a black resilient and adhesive compound capable of effectively sealing joints in concrete and cracks in asphalt pavements against penetration of moisture and foreign material throughout cycles of expansion and contraction with temperature changes.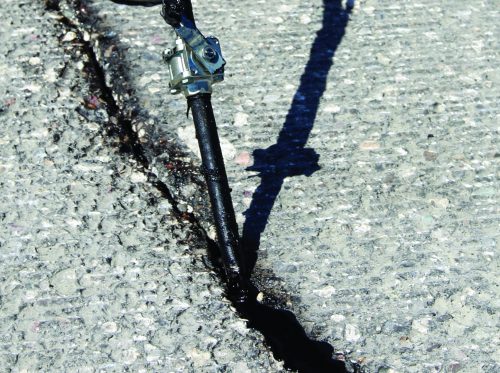 Key Features.
Excellent adhesion to bitumen and concrete surfaces.
Good elasticity. Withstands expansion, contraction and structural movements.
High water resistance. Not affected by long immersion in water.
Weather-resistant.
ROFLEX complies with the requirements of B.S. 2499 (Type N2), ASTM D6690 Type II.
Packaging Information.
ROFLEX is supplied in a 20-liter drum.
Application Field.
ROFLEX is used for sealing joints in building constructions, runways, parking areas, garages, concrete roads, pavements, bridges, foot paths, sporting arenas, joints of irrigation canals.
Application Method.
Prepare the joint slot as per B.S. 2499: part 2.
Proper joint filler is to be inserted and firmly located so as not to be displaced before or during sealant application.
The surface of the joint must be free from loose concrete, dirt or dust.
Prime the concrete joint surface with primer after surface preparation, using a stiff brush. The primer should be applied carefully so that no spot will be left uncoated and no excess primer left. Once the primer is dry to touch, usually within half an hour, pour the hot ROFLEX.
ROFLEX is to be heated indirectly with continuous agitation, to the safe heating temperature of 195ºC. The pouring temperature should be between 150º – 160ºC.
Care should be practiced in the application of sealant to avoid overfilling of joint space. The filling is to be carried in a neat workmanlike manner from 3 to 6 mm below adjacent joint level.
Note: BS. 2499 and ASTM D6690 (Appendix) should be consulted for recommended application and good workmanship.