OGV
OGV waterproofing membrane 3 or 4 or 5 mm thick is an ECONOMIC product, produced from bitumen modified with atactic polypropylene (APP).
The compound is a mixture of distilled bitumen, plastomers and elastomers which gives the mem-brane excellent resistance to heat aging and weathering.
The reinforcement is a rotproof fiberglass mat that gives dimensional stability to the membrane sheet.
The lower surface is covered with a burn-off poly-ethylene film, while the upper surface is covered with polyethylene film or fine sand.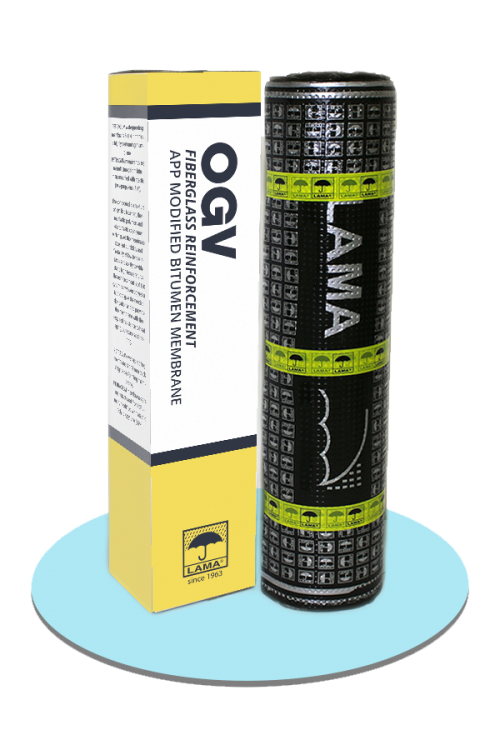 Key Features.
Low-cost waterproofing job.
Dimensional stability.
Rot proof.
Used as the initial layer in case of multiple waterproofing systems on roofs.
Packaging Information.
Dimension: 1×10 m/roll
Thickness: 3 or 4 or 5 mm
Weight per roll: 40 or 50 or 62 Kg
Reinforcement: Reinforced Fiberglass 60 g/m²
Application Field.
OGV membrane can be used as the most economical waterproofing material.
It is torch applied and can be utilized in below ground damp proofing for foundations, retaining walls and basements. Also used as a waterproofing layer in bathrooms, kitchens and terraces.
OGV is also recommended for the protection of embedded metal pipes of large diameter, and ducts.
Application Method.
Make the surface clean and dry.
Prime the surface with LAMA PRIMER at a rate of 0.3-0.5 It/m², depending on surface smoothness.
Lay down the rolls starting from the lower edge, unroll and align beside each other with 100mm side lapping and 150mm end lapping.
Roll back the rolls up to the middle and start the torching operation while unrolling using the propane gas torch.
Seams at overlaps should be smoothed on and the bitumen evenly distributed using a heated round-tipped trowel.
Excessive heating may damage the reinforcement.
The membrane may be loosely laid, partially or fully bonded to substrate, depending on the structure and the specifications.