LAMASELFSEAL
LAMASELFSEAL self-adhering sheet is constructed of a strong 60 g/m² fiberglass mat coated with our popular blend of SBS polymers, premium bitumen, and chemical additives to fortify mechanical properties.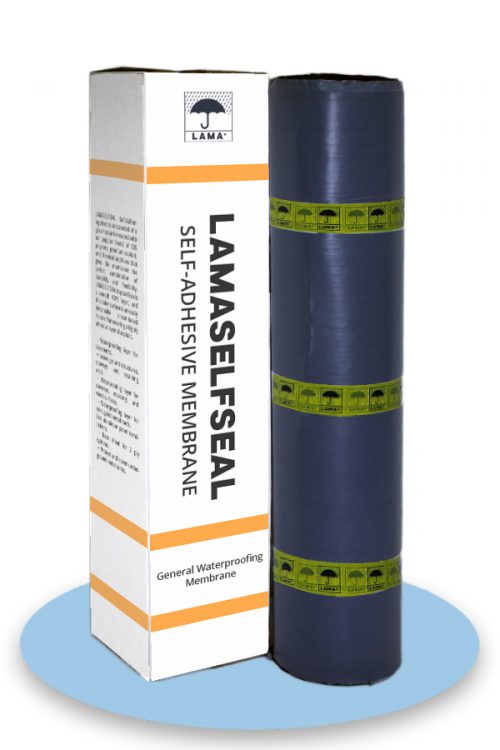 Key Features.
Safe to use.
Excellent adhesion.
High flexibility.
Dimensional stability.
Tear resistance.
Vapor barrier.
Rot resistant.
Packaging Information.
Dimension: 1×20 m/roll
Thickness: 1.6 mm
Reinforcement: Reinforced fiberglass 60 g/m²
Packaging: Carton
Rolls quantity per pallet: 25 rolls
Application Field.
A waterproofing layer for tanking below ground structures, subways and retaining walls.
A waterproofing layer for concrete, masonry and wood surfaces.
A waterproofing layer for corrugated metal roofs.
To seal aluminum panels terminations.
Protects and covers underground metal tanks.
Base sheet for 2 ply systems.
Application Method.
The surface shall be clean from all contaminants such as dust, oil, and grease, and free from loose materials.
Prime the surface with LAMAPRIMER MR at a rate of 0.3-0.5 It/m2, depending on surface smoothness, allow it to fully dry.
Place down the rolls starting from the lower edge, unroll, and align beside each other with 100mm side lapping and 150mm end lapping.
Peel off the release film from the lower side, start unrolling the membrane and apply pressure from the center towards the edges making sure trapped air is driven out.
Application temperature should be between -5 to 55 °C.
The membrane must be protected from site activities, sun, and weathering conditions