LAMAGARDEN
LAMAGARDEN water-proofing membrane, torch applied, 4 or 5 mm thick, is specially treated to resist the plant root penetration and designed for use in planted roofs.
LAMAGARDEN water-proofing membrane is manufactured from high-quality distilled bitumen and APP or SBS elastomers, the bitumen is specially treated with an anti-root formulation, with the addition of Preventol B2, which acts only on the roots without damaging plants and cultivations.
The reinforcement is 200 g/m² nonwoven polyester fabric reinforced with fiberglass filaments to give high elongation and to provide the membrane with the required resistance to heat aging, puncture, and rotting. The lower surface is covered with a burn-off Polyethylene film.
Granules or colored slates membrane surfacing can be supplied when used as the exposed top layer to guard against UV and to provide a weather protection surface with appealing decorative color to the parapets.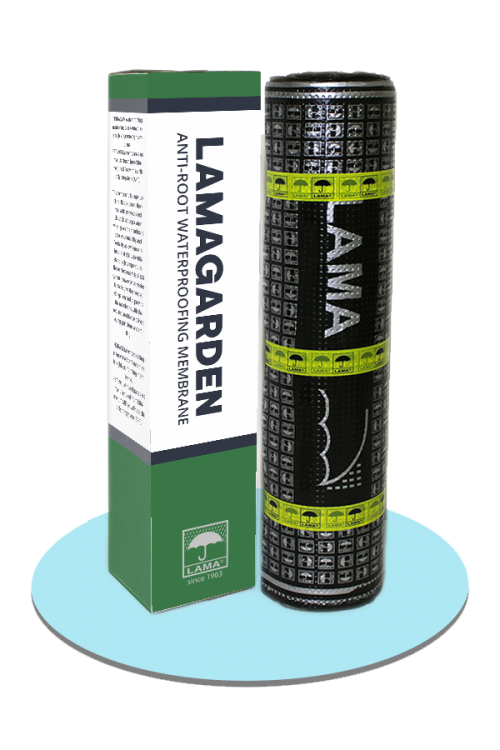 Key Features.
Excellent elasticity.
Plant root resistance.
Rot-resistant.
High flexibility at low temperatures.
Resistance to aging.
High puncture and tear resistance.
Good resistance to acids, sulfates and chlorides.
High dimensional stability.
Packaging Information.
Dimension: 1×10 m/roll
Thickness: 4 or 5 mm
Weight per roll: 48 or 58 Kg
Reinforcement: Nonwoven Polyester & Fiberglass 200 g/m²
Application Field.
Due to its anti-root capability, LAMAGARDEN is used in areas where plantation can damage the waterproofing layers, such as:
Roofs gardens.
Top of underground garages.
Green oasis in houses.
Floral bed.
Application Method.
LAMAGARDEN can only be installed with experienced waterproofing contractors.
To fix the sheet to the substrate, use a propane gas burner to melt off the polyethylene film and a thin layer of bitumen while unrolling and laying the membrane. Side laps 100mm and end laps 150mm.
The membrane can be applied onto the vertical walls and must extend at least 10 cm above the top level of the soil, to ensure that no overflow of irrigation water that passes behind the waterproofing layer.