LAMABOARD
LAMABOARD is a semi-rigid protection board of modified asphalt compound with a core of synthetic fiberglass, formed under hot press during the process of manufacturing. The board is covered on the bottom side with a polyethylene film, and on the top side with either fine sand or polyethylene film.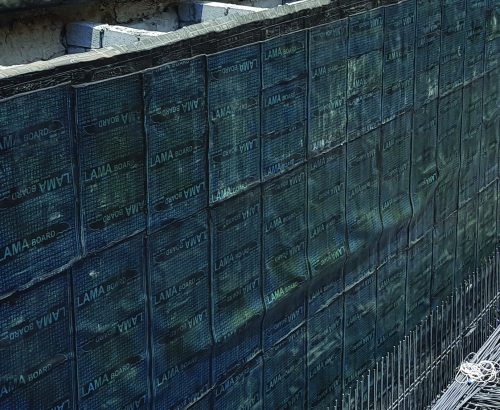 Key Features.
LAMABOARD is a tough and durable protective cover for protecting various waterproofing systems.
It offers superior protection against rotting and decomposing.
Since the basic ingredient of the material used for manufacturing the board is asphalt, these boards are considered damp-proof.
Packaging Information.
Dimension: 1×2 m/board
Thickness: 2, 3, 4, 5 and 6 mm
Weight: 3.7 to 7.5 Kg
Application Field.
LAMABOARD is made to protect the waterproofing insulation from construction abuse and harmful puncture by rock and stones during the backfill operation. 
For horizontal surfaces, it gives protection against normal foot traffic as well as the wearing caused by built-up over layers.
Application Method.
LAMABOARD can be laid over the surface to be protected. 
No overlapping between boards is required. 
Attachment is achieved by gentle torching or by the use of proper mastic such as LAMASEAL.