BITOCOAT
BITOCOAT is a cold applied bitumen emulsion, which gives black color layer when dry.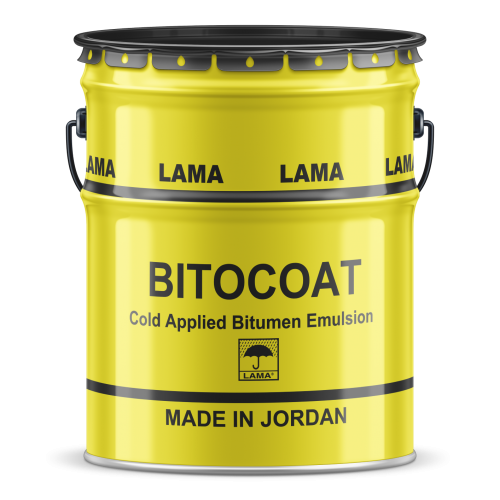 Key Features.
Easy to apply by brush.
Environment-friendly, solvent-free.
Nonflammable, safe to use.
Resistant to Chemicals.
Resistant to alcohol, most salt solutions and dilute acids and alkalis.
Resistant to weather conditions.
Packaging Information.
BITOCOAT is supplied in a 16-liter drum.
Application Field.
General-purpose waterproofing coating.
Damp proofing coating, suitable for use for below-ground concrete foundations, basements, and retaining walls.
May be used in conjunction with asphalt-saturated organic felt, fiber-glass or polyester mat or jute.
A moisture vapor barrier on block works and concrete surface prior to cladding.
Application Method.
Stir BITOCOAT to homogeneity & apply by brush the first coat at a rate of 0.25-0.50 kg/m².
To ease application, dampen the applicator before and during use.
Allow the first coat to dry (1-4 hours depending on weather conditions).
Apply the second coat at the same rate and right angle to the first coat.
Protect from frost and rain until fully cured.
Note: BITOCOAT can be applied on damp or dry surfaces.